Are you facing the prospect of a tooth extraction with a bone graft and seeking a skilled dental professional?
Consult Dr. Parth Shah, a renowned oral and maxillofacial surgeon in Seawoods, Navi Mumbai, who specializes in complex dental procedures like tooth extraction and bone grafting. He employs cutting-edge technology for dental treatments at Casa Dentique.
Your smile is a powerful asset, brightening your world and making lasting impressions. However, when dental issues arise, such as the need for a tooth extraction, it can be a daunting experience. But before you think about removing that troublesome tooth, there is a solution. It not only fixes the immediate problem but also prepares your smile for a healthier, brighter future: tooth extraction with bone graft.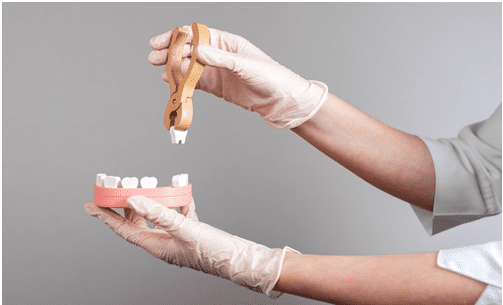 Tooth extraction with bone graft, when performed with precision and care, can be the first step toward restoring your oral health and regaining your confidence. At Casa Dentique, a cutting-edge dental clinic in Seawoods, Navi Mumbai, Dr. Parth Shah performs tooth extraction with utmost care and proficiency.
Dr. Shah possesses the knowledge and experience to navigate the delicate intricacies of tooth extraction and bone graft. It is not just about removing a tooth but also preserving your jawbone. It ensures a sturdy foundation for future dental treatments like dental implants and restoring your smile. After all, your smile is worth it; with proper guidance, it can shine brighter than ever.
Unlock Your Perfect Smile Today! Discover the Magic of Smile Design Treatment in Navi Mumbai.
Understanding Tooth Extraction and its Types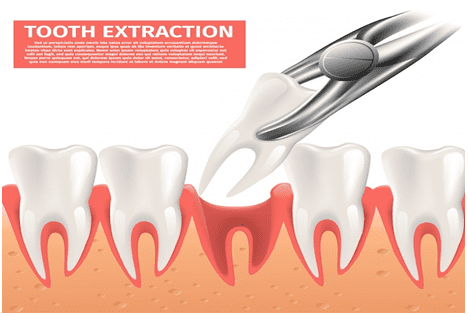 Tooth extraction, a common dental procedure, involves the removal of a tooth from its socket in the jawbone. It is often necessary to resolve dental issues like severe decay, gum disease, or overcrowding and maintain oral health. There are two primary types of tooth extractions:
1. Simple Extraction: Dentists perform this type of extraction when a tooth is visible and can be easily removed with forceps.
2. Surgical Extraction: It is necessary when a tooth is not easily accessible, often due to being impacted (partially or fully submerged in the jawbone) or broken. This procedure may require a small incision and the removal of bone tissue to access and extract the tooth.
Role of Bone Grafting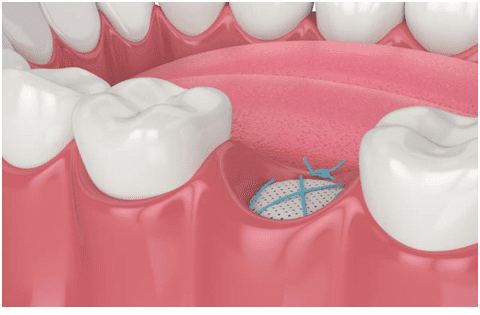 When it comes to dental health, bone grafting is a game-changer. It is a vital procedure that often goes hand in hand with tooth extraction. Its significance extends far beyond the immediate dental issue at hand.
What is Bone Grafting?
It is a surgical procedure that involves the transplantation or addition of bone tissue into an area with a deficiency or a need for bone regeneration. Dentists commonly perform bone grafting to preserve or augment the jawbone, ensuring it remains strong and healthy.
Importance of Bone Grafting in Dentistry
The significance of bone grafting in dentistry cannot be overstated. It plays several pivotal roles:
1. Preservation of Bone: The surrounding bone can resorb or deteriorate over time after tooth extraction. Bone grafting prevents this bone loss, preserving the integrity of the jaw structure.
2. Implant Readiness: A healthy jawbone is essential for individuals considering dental implants as a tooth replacement option. Bone grafting ensures sufficient bone volume and density to support dental implants effectively. Without a strong foundation, implants may not be a viable choice.
3. Enhancing Aesthetics: Bone grafting can enhance your smile's aesthetics. It provides a more stable base for other dental restorations, like bridges and dentures, ensuring they fit securely and look natural.
4. Improved Functionality: A healthy jawbone is crucial for proper speech and chewing. Bone grafting can help restore lost function by maintaining or enhancing the bone structure.
So, if you are contemplating tooth extraction with a bone graft, consulting a skilled dental professional like Dr Parth Shah is crucial to ensuring your oral health receives the attention it deserves.
Preparation and Evaluation
Before opting for tooth extraction with a bone graft, thorough preparation and evaluation are essential to ensure the success of the treatment. Let's explore what happens during this critical phase:
1. Initial Consultation:
The journey begins with a visit to your trusted dental professional. During the initial consultation, you can expect the following:
Medical History Review: Your dentist will inquire about your medical history, including any underlying health conditions, allergies, medications, and previous dental procedures. This information is crucial to tailor the treatment plan to your needs and minimize potential risks.
Dental Examination: The dentist will perform a comprehensive dental examination, including X-rays or other imaging, to assess the condition of the tooth to be extracted and the overall health of your oral structures. X-rays help the dentist visualize the tooth's root structure and proximity to adjacent teeth, nerves, and sinuses.
2. Treatment Planning:
Based on the evaluation, your dentist will develop a personalized treatment plan. This plan will consider factors such as the type of tooth extraction (simple or surgical), the need for bone grafting, and the choice of graft material.
3. Informed Consent:
Your dentist will explain the proposed treatment, its benefits, potential risks, and alternative options. It is crucial to ask questions and ensure that you fully understand what to expect during and after the procedure. Informed consent is essential, ensuring you are actively involved in oral healthcare decisions.
4. Preoperative Instructions:
Before the scheduled procedure, you will receive preoperative instructions from your dental provider. These instructions may include dietary restrictions, guidelines for medication management, and recommendations for arranging transportation to and from the clinic, especially if you will be receiving sedation.
Steps Involved in Tooth Extraction with Bone Graft
1. Initial Evaluation:
The process begins with a thorough examination by a dental professional.
Medical history and dental imaging are reviewed to assess the tooth's condition and determine if extraction and grafting are necessary.
2. Anesthesia:
Your dentist will administer local anesthesia to numb the tooth and surrounding area.
For more complex cases or patient comfort, general anesthesia or IV sedation may be used.
3. Tooth Extraction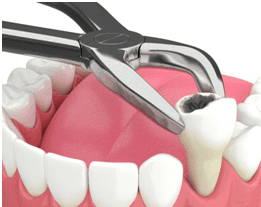 The dentist performs the tooth extraction as a simple or surgical procedure based on the tooth's condition.
The dentist carefully loosens the tooth and removes it from its socket using specialized instruments.
4. Graft Material Selection:
The dentist selects an appropriate graft material, such as autografts (patient's bone), allografts (donor's bone), xenografts (animal-derived), or synthetic grafts.
The choice depends on the patient's needs and the surgeon's preferences.
5. Graft Placement: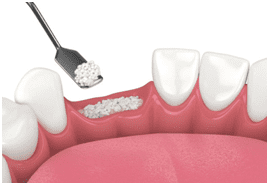 The dentist places the selected graft material into the empty tooth socket.
It can be in granules, blocks, or putty, depending on the specific graft material and the procedure.
6. Securement:
The dentist securely positions the graft material to ensure proper contact with the surrounding bone.
Biocompatible membranes or barriers may be used to cover the graft site and protect it during healing.
7. Suturing:
The dentist closes the incision created during tooth extraction with sutures to promote healing and reduce the risk of infection.
The type of sutures used depends on the size and location of the incision.
8. Postoperative Care:
Patients receive postoperative instructions, including guidance on managing pain, dietary restrictions, and oral hygiene practices.
Antibiotics may be prescribed to prevent infection.
9. Healing and Integration:
Over several weeks and months, the graft material integrates with the patient's natural bone.
New bone cells gradually replace the graft, strengthening the treated area.
10. Follow-up:
Follow-up appointments are scheduled to monitor the healing progress.
The dentist may take X-rays to assess the integration and stability of the graft.
How Bone Grafting Complements Extraction?
Tooth extraction is the first step in restoring oral health. When extracted, a tooth leaves behind an empty socket, a void where the tooth once resided. Without intervention, this socket can pose several challenges: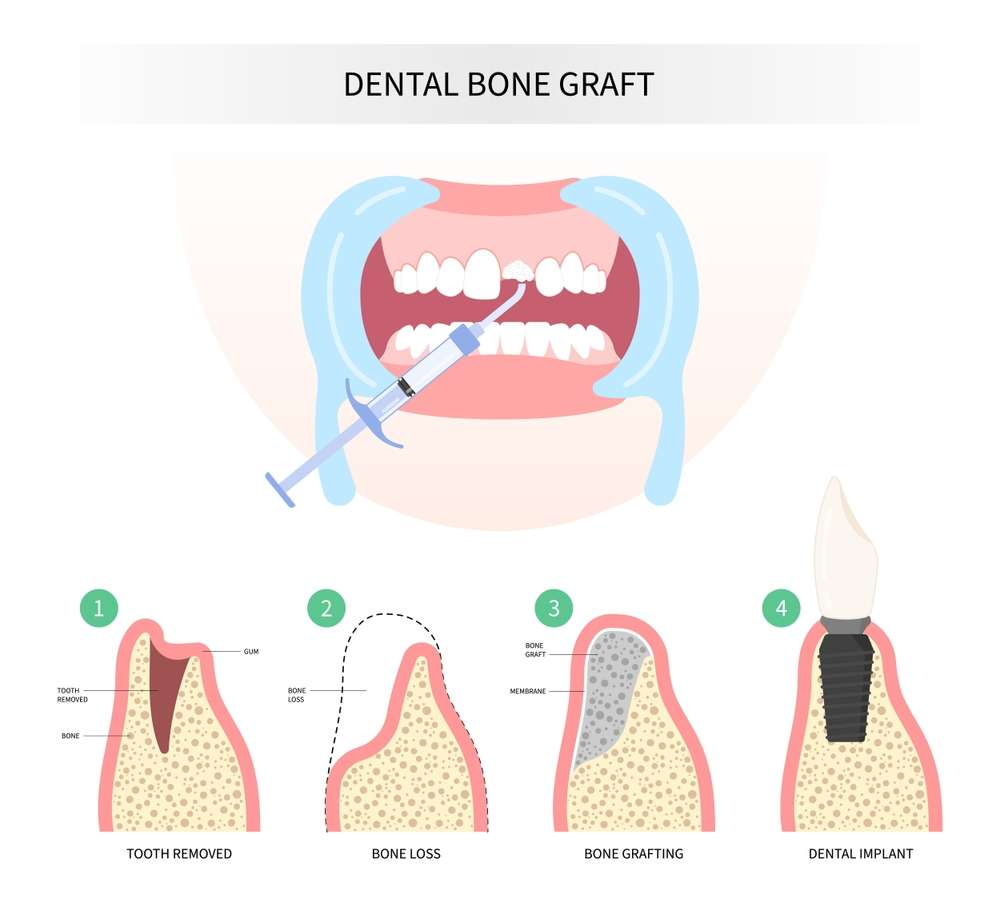 Bone Resorption: Over time, the surrounding jawbone may resorb or shrink without the tooth's root. This is a natural process that can lead to a weakened jaw structure.
Dental Implant Readiness: If you plan to replace the extracted tooth with a dental implant, a robust jawbone is essential to provide a stable foundation for the implant. A diminished bone structure may not provide the necessary support.
This is where bone grafting comes into play. It complements the extraction process by:
Preserving Bone: Grafting material is placed into the empty socket. It helps prevent bone loss and maintain the jawbone's integrity. This is particularly important if you plan to get dental implants.
·Enhancing Bone Regeneration: The graft material stimulates the body's natural bone-healing processes. Over time, the graft integrates with the existing bone, fostering regeneration and strengthening the jawbone.
Restore Your Confidence and Missing Teeth with Dental Implants in Navi Mumbai. Smile Brighter, Live Better!
Types of Bone Grafts
Bone grafting procedures utilize various graft materials, each with unique advantages and applications. The choice of graft material depends on factors such as the patient's needs, the size of the graft, and the surgeon's preference. Here are the primary types of bone grafts:

1. Autografts: This graft material is harvested from the patient's body, often from the hip, tibia, or jaw. Autografts are considered the gold standard. This is because they have the same living cells as the recipient site, promoting successful integration.
2. Allografts: Allografts involve using bone tissue from a donor. It has been processed and sterilized to eliminate the risk of disease transmission. They are an excellent alternative for patients who prefer not to undergo a secondary surgical site for graft material.
3. Xenografts: Xenografts utilize bone tissue derived from animals, typically bovine (cow) or porcine (pig). These grafts are processed and sterilized to ensure biocompatibility. Often, dentists use xenografts when a larger volume of graft material is required.
4. Synthetic Bone Grafts: Synthetic graft materials, made from biocompatible substances like hydroxyapatite or calcium phosphate, mimic the structure of natural bone. They are an excellent option for patients concerned about using biological materials.
How much does a tooth extraction and bone graft cost?
Understanding the financial aspects of tooth extraction with bone graft treatment is crucial for making informed decisions about your oral health. The tooth extraction and bone graft cost can vary widely depending on several factors:
1. Location: Dental costs can vary significantly from one region to another. Urban areas tend to have higher dental fees than rural areas.
2. Type of Extraction: The complexity of the tooth extraction, whether it is a simple or surgical extraction, can influence the cost. Surgical extractions generally cost more due to their complexity.
3. Type of Bone Graft: The choice of bone graft material also plays a role. Autografts may incur additional costs for the secondary surgical site. Whereas allografts, xenografts, or synthetic grafts may have different price points.
4. Dentist's Experience: The experience and reputation of the dentist performing the procedure can affect the cost. Highly skilled professionals may charge higher fees.
5. Insurance Coverage: Dental insurance may cover a portion of the cost, particularly if the procedure is deemed medically necessary. Check with your insurance provider to understand your coverage.
6. Additional Procedures: If you require additional treatments, such as dental implants or other restorations, these will add to the overall cost.
It is essential to have a detailed discussion with your dentist about the anticipated costs, payment options, and potential financial assistance or financing plans available. This will help you plan and budget for the procedure effectively.
Complications and Risks
Like any surgical procedure, bone graft after tooth extraction has potential complications and risks. While these are relatively rare, it is essential to be aware of them:
1. Infection: Infection at the surgical site can occur but is typically treated with antibiotics.
2. Swelling and Bruising: Some swelling and bruising are normal. But it should resolve with time.
3. Pain and Discomfort: You may experience pain or discomfort after the procedure. However, it can be managed with prescribed pain relievers.
4. Graft Failure: In rare cases, the bone graft may not integrate successfully with your natural bone. If this occurs, additional grafting procedures may be necessary.
5. Nerve Damage: There is a slight risk of temporary or, very rarely, permanent nerve damage. It could lead to numbness or altered sensation in the area.
6. Sinus Issues: There is a small risk of sinus problems for upper jawbone grafts, such as sinusitis or an oroantral fistula. In such cases, communication forms between the mouth and the sinus cavity.
7. Extraction Complications: The tooth extraction itself may have complications, such as difficulty removing the tooth or fracture of the adjacent teeth.
It is crucial to diligently follow your dentist's post-operative instructions to minimize these risks and complications. Also, promptly consult your dentist if you report any unusual symptoms or concerns.
Long-Term Benefits and Considerations
Bone graft after tooth extraction offers many long-term benefits:
1. Preservation of Jawbone: Bone grafting helps preserve your jawbone's integrity. This ensures it remains strong and healthy over time.
2. Implant Readiness: If you replace the extracted tooth, a healthy jawbone sets the stage for successful dental implant placement.
3. Enhanced Aesthetics and Function: The procedure can improve the aesthetics and functionality of your smile by providing a stable base for dental restorations like bridges and dentures.
4. Oral Health: Overall, the procedure contributes to better oral health, reducing the risk of further complications.
Conclusion
Tooth extraction and bone grafting are critical procedures combining science and artistry to enhance oral health and restore the beauty of your smile. To embark on this journey, choosing a trusted dental professional is essential. At Casa Dentique Dental Clinic in Navi Mumbai, Dr. Parth Shah, a competent oral and maxillofacial surgeon, offers top-notch dental care.
Remember, a healthy smile is an investment in your overall well-being – choose wisely and smile confidently!
FAQs:
Q1. What to eat after tooth extraction and bone graft?
After the procedure, stick to soft, nutritious foods like mashed potatoes, yogurt and smoothies. Avoid spicy, hot, or crunchy foods that may irritate the surgical site.
Q2. What to expect after tooth extraction and bone graft?
You can expect some swelling, discomfort, and minor bleeding initially. Follow your dentist's post-operative instructions for a smooth recovery.
Q3. How long does a tooth extraction and bone graft take?
The entire process can take anywhere from 30 minutes to a few hours. It depends on the complexity of the extraction and grafting.
Q4. How long is pain after tooth extraction and bone graft?
Pain and discomfort are usually most significant in the first few days after the procedure but gradually improve. It can take several weeks to complete tooth extraction and bone graft healing process.
Q5. How long does a bone graft last?
The longevity of a bone graft varies. However, it can last many years, mainly when used to support dental implants. Regular dental check-ups and good oral hygiene can help maintain the graft's integrity.