Are you looking for a trusted partner to guide you through the intricacies of tooth extraction after root canal and crown? At Casa Dentique, Dr Parth Shah, a reputed oral and maxillofacial surgeon in Seawoods, Navi Mumbai, can guide you through this crucial aspect of your dental health and provide comprehensive dental care.
Your smile is a valuable asset, and when you have invested in dental procedures like a root canal and crown, it is only natural to want to preserve your teeth for a lifetime. However, there may come a time when tooth extraction after root canal and crown becomes necessary.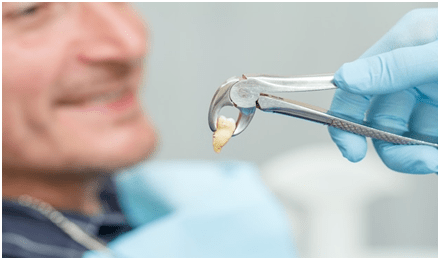 At Casa Dentique Dental Clinic in Seawoods, we understand that dental decisions can be daunting. That is why our team of highly skilled dental professionals, led by Dr Parth Shah, is here to offer you guidance, support, and expert dental solutions. We dedicate ourselves to ensuring that your smile remains a source of confidence and joy, even when you face challenging dental choices.
In this blog, we will understand the process of tooth extraction after root canal and crown, when it is necessary, and what to expect during recovery so you can make informed decisions about your dental health.
Why is Tooth Extraction After Root Canal and Crown May Be Necessary?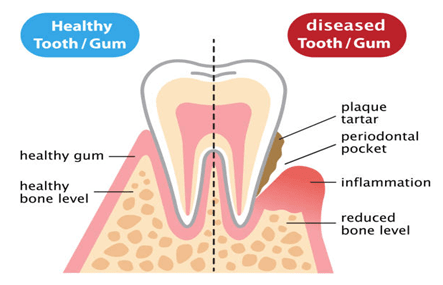 Tooth extraction after root canal and crown treatment may become necessary due to several factors, including:
1. Tooth Extraction after Root Canal Failure: Despite initial treatment, some infections or complications may persist, necessitating extraction.
2. Extensive Damage: If a tooth is severely damaged, fractured, or compromised beyond repair, extraction may be the best option.
3. Infections: Your dentist may recommend extraction when infections recur or become difficult to control within a treated tooth.
Overview of Root Canal and Crown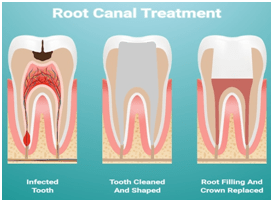 This dental treatment entails removing the infected or damaged pulp from the inner chambers of a tooth. Then, cleaning and disinfecting the space and sealing it to prevent further infection. Dentists usually perform this procedure to save a tooth that might otherwise require extraction.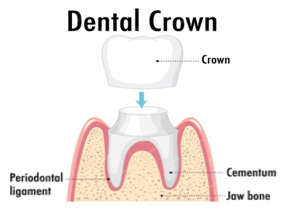 A dental crown is a customized, tooth-shaped cap placed over a prepared tooth. It restores the tooth's shape, size, strength, and appearance. Crowns aid in protecting and strengthening teeth that have undergone a root canal or have significant damage.
How They Work Together?
Root canals and crowns complement each other in the following way: After a root canal, the dentist cleans and seals the tooth's interior to eliminate infection. Then, the dentist places a crown over the treated tooth to support and restore its functionality and appearance. Together, they ensure that a damaged tooth can continue to serve its purpose for years.
"Experience the Difference – Transform Your Smile with Dental Crowns in Navi Mumbai."
Indications for Root Canal Tooth Extraction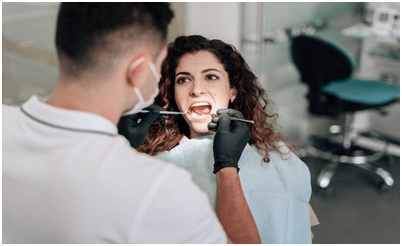 When it comes to determining whether tooth extraction is necessary after a root canal and crown, there are specific signs and factors that your dentist will consider:
1. Persistent Pain: If you continue to experience severe or persistent pain in the tooth, even after a root canal and crown, it could indicate an ongoing issue. Pain is often a significant indicator that something is amiss and requires further attention.
2. Infection: Recurrent or uncontrollable infections are a concerning sign. Despite initial treatment, if the infection returns or proves challenging to manage, it may necessitate tooth extraction to prevent the spread of infection to other teeth or oral tissues.
3. Structural Integrity: The tooth's structural integrity plays a crucial role in decision-making. Extraction may be the best option to avoid further complications if the tooth is extensively damaged, fractured beyond repair, or lacks enough healthy tooth structure to support a crown.
4. Tooth Extraction After Root Canal Failure: In cases where a root canal procedure fails to eliminate the infection or address the underlying issue, extraction may be considered an alternative solution to protect your oral health.
Your dentist evaluates these indications with a thorough examination. They will consider the unique circumstances of your case to determine whether removing root canal treated tooth is the most suitable course of action. The ultimate goal is to ensure your long-term oral health and comfort.
The Procedure of Tooth Extraction After Root Canal and Crown
Tooth extraction is a well-established dental procedure designed to remove a tooth from its socket in the jawbone. Here's a brief overview of the steps involved:
1. Examination and Assessment
Your dentist will examine your tooth and take an X-ray to assess its position and condition. This step helps them plan the extraction procedure.
2. Anesthesia
The dentist will administer local anesthesia to numb the area around the tooth. This ensures that you don't feel pain during the extraction.
3. Tooth Loosening
The dentist carefully wiggles the tooth with special dental tools called elevators and forceps to loosen it from the nearby ligaments and bone.
4. Extraction
After sufficiently loosening the tooth, the dentist gently extracts it from its socket. Removing root canal treated tooth might feel like some pressure, and you might hear a popping sound.
5. Cleaning and Stitches (if needed)
Sometimes, stitches may be required to close the surgical site, particularly for surgical extractions. Your dentist will clean the area to remove any debris.
6. Gauze Placement
Your dentist may place a gauze over the extraction site to help control bleeding and promote clot formation. They will ask you to bite down gently on the gauze to aid in this process.
7. Duration of the Procedure
The entire procedure for extraction of RCT treated tooth, from start to finish, usually takes about 30 minutes to an hour. The procedure's duration may vary depending on the complexity of the extraction. Simple extractions can be quicker, while surgical extractions involving impacted teeth may take longer.
After the procedure, your dentist will closely monitor you for a short time to ensure no immediate complications arise.
Recovery and Aftercare
Post-Extraction Care Instructions
Following your dentist's post-extraction care instructions is essential to facilitate a smooth and comfortable recovery.
1. Bite on Gauze: Bite down on the provided gauze for 30-45 minutes to control bleeding. Change the gauze as needed until the bleeding stops.
2. Pain Management: Take prescribed or over-the-counter pain medication as your dentist directs to manage discomfort. Avoid aspirin, which can increase bleeding.
3. Oral Hygiene: When you brush and floss, avoid touching the extraction site for the first day. After that, rinse your mouth with warm, salty water a few times a day to keep that area clean. Mix half a teaspoon of salt into 8 ounces of water, and you are good to go.
4. Swelling: Apply an ice pack to the outside of your face for 20 minutes on and 20 minutes off during the first 24 hours to reduce swelling.
5. Diet: During the initial days, it is best to eat soft foods and skip anything hard, crunchy, or spicy. As your treated area heals, you can slowly start eating regular solid foods again.
6. Rest: Take it easy for the first 24 hours, avoiding strenuous activities that could increase blood pressure and bleeding.
7. Avoid Smoking and Alcohol: Refrain from smoking and consuming alcohol during the initial recovery phase, as they can impede healing.
8. Follow-Up: Attend follow-up appointments with the dentist to monitor the progress of your root canal tooth extraction healing and ensure no complications.
Expectations During Recovery
Immediate: Some bleeding and swelling are normal immediately after the extraction. You may also experience minor discomfort, which you can alleviate with pain medication.
24-48 Hours: Swelling and bruising may peak during this time. But they should gradually subside.
3-5 Days: You should be able to reintroduce a more regular diet as the extraction site starts to heal.
1-2 Weeks: Most discomfort, swelling, and bruising should resolve. The extraction site will continue to heal, and any stitches used will be removed if necessary.
Complete Healing: The extraction site may take several weeks to heal fully, with new bone and gum tissue forming over time.
Every individual's root canal tooth extraction healing process can vary. So, following your dentist's instructions and contacting them if you have any concerns during your recovery is essential.
Cost Considerations for Tooth Extraction After Root Canal and Crown
The cost of tooth extraction after root canal and crown can vary significantly based on several factors. Here's a tabular breakdown of these factors and a rough estimate of the expenses in different scenarios:
| | |
| --- | --- |
| Factors Influencing Cost | Estimated Cost Range (in INR) |
| Complexity of Extraction (Simple vs. Surgical) | 2,000 – 8,000 |
| Location of the Tooth (Front vs. Back) | 2,000 – 10,000 |
| Choice of Anesthesia (Local vs. General) | 1,000 – 5,000 (Local) |
| Need for Sedation or Conscious Sedation | 3,000 – 10,000 |
| Reputation and Experience of the Dentist | 4,000 – 15,000 |
| Geographical Location (Urban vs. Rural) | Prices tend to be higher in urban areas |
| Additional Procedures (Stitches, Bone Grafts) | 1,000 – 5,000 (per additional procedure) |
| Clinic Facilities and Amenities | 1,000 – 5,000 (per additional procedure) |
Consult your dentist for a personalized cost assessment and discuss any potential insurance coverage or payment plans that may be available. Dental health is a valuable investment, and understanding the cost factors can help you make informed decisions about your oral care.
Factors Influencing the Cost of Tooth Extraction After Root Canal and Crown
1. Complexity of Extraction: Simple extractions are less expensive than surgical ones, which require more skill and time.
2. Tooth Location: Extraction of RCT treated tooth at the front of the mouth is generally easier and may be less costly than molar or wisdom tooth.
3. Anesthesia Choice: Local anesthesia is more affordable than general anesthesia or conscious sedation.
4. Dentist's Experience: Highly experienced dentists may charge more for their expertise.
5. Geographical Location: Urban areas tend to have higher dental costs than rural regions.
6. Additional Procedures: If stitches or other procedures are required, they add to the overall cost.
7. Clinic Facilities: Modern, well-equipped clinics may charge more for their amenities and services.
Why Choose Casa Dentique Dental Clinic in Navi Mumbai?
Choosing the right dental clinic is a crucial decision when it comes to your oral health. Casa Dentique, widely recognised as the best dental clinic in Navi Mumbai, stands out as a trusted choice, and here's why consulting with our expert dentists is of utmost importance:
1. Expertise and Experience
Our team comprises some of the best dentists in Seawoods, Navi Mumbai, with extensive expertise and experience. They are well-versed in a wide range of dental procedures, including tooth extraction after root canal and crown treatments. You can trust their knowledge and skills to provide the best care.
2. Comprehensive Evaluation
Our dentists conduct thorough assessments, utilizing state-of-the-art equipment like X-rays to ensure an accurate diagnosis. This precision is essential in determining whether root canal tooth extraction is necessary and planning the most appropriate treatment.
3. Personalized Care
We understand that each patient's dental needs are unique. Our dentists take the time to understand your situation, discuss treatment options with you, and tailor their recommendations to ensure the best outcome for your oral health.
4. Advanced Techniques
Casa Dentique stays at the forefront of dental technology and practices. Our dentists are trained in the latest advancements, ensuring you receive cutting-edge treatment options for your dental concerns.
5. Compassion and Comfort
We prioritize your comfort and well-being throughout the entire treatment process. Our expert dentists provide compassionate care, ensuring you feel comfortable and confident in your dental choices.
6. Holistic Approach
We take a holistic approach to dental care, considering the immediate issue and your long-term oral health. Our dentists aim to provide solutions that will benefit you for years.
The importance of consulting with our expert dentists goes beyond just the extraction procedure. It is about receiving personalized, high-quality care from a team that values your oral health and overall well-being. Your smile is in capable hands with us, and we are dedicated to helping you maintain it for a lifetime of confidence and happiness.
Conclusion
Tooth extraction after root canal and crown may not be the first choice. But it is sometimes necessary for oral health. At Casa Dentique Dental Clinic in Seawoods, Navi Mumbai, we prioritize your comfort and well-being.
If you have concerns or suspect you may need this procedure, don't hesitate to consult with our expert dentists in Seawoods, Navi Mumbai.
Reference Links:
FAQs:
1. Is it painful to extract a root canal tooth?
No, the procedure is performed under local anesthesia, ensuring minimal discomfort.
2. How long does it take to recover from the extraction of RCT treated tooth?
Recovery typically takes a few days to a couple of weeks, depending on the complexity of the extraction.
3. How do they remove a broken root canal tooth?
A broken tooth may require surgical extraction, where the dentist carefully removes it.
4. Is it difficult to remove a tooth with a crown?
It may be slightly more complex due to the crown. However, experienced dentists can handle it efficiently.
5. How long does it take to extract a crowned tooth?
The duration varies based on the tooth's condition and complexity. However, it usually takes 30 minutes to an hour.