Teeth Cleaning & Polishing in Navi Mumbai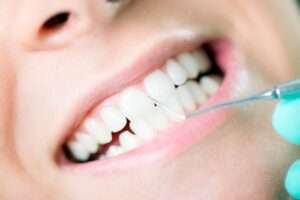 Healthy teeth are vital to your general well-being and good health. They help us eat and speak correctly and significantly affect how we look and feel about ourselves. A healthy oral care routine and  a regular dental checkups can help you maintain good dental health and prevent various issues, such as cavities, gum disease, and bad breath.
"Poor dental health has been linked in studies to a higher risk of heart disease, stroke, and other health issues," says Dr. Parth Shah, one of the founders of Casa Dentique dental clinic in Navi Mumbai. "We can lower the chance of developing these significant health problems and enhance our quality of life by maintaining healthy teeth and gums."
Dr. Shah is a highly skilled Oral and Maxillofacial Surgeon. He is among the preferred dental surgeons for people seeking dental procedures, including Teeth Cleaning & Polishing in Navi Mumbai.
Cleaning, also known as scaling, and polishing teeth, is essential for maintaining good dental health. Plaque and tartar accumulation, which can result in cavities and gum disease, are removed by professional dental scaling and polishing. Moreover, polishing helps clear up surface stains and enhance the look of teeth, giving the wearer a whiter, more attractive smile.
Scale and polish – Procedure
Cleaning and polishing your teeth is crucial to maintaining good dental health and preventing dental conditions. Plaque is a sticky bacterium film that grows on teeth. If not routinely cleaned, it can harden into tartar and cause more severe dental issues.
The following steps are often included in the scale and polish procedure by the renowned dental expert Dr. Parth Shah:
Evaluation:
Dr. Shah will evaluate your teeth and gums to see how much tartar and plaque have accumulated.
Scaling:
The dental specialist uses a special tool called a scaler to remove plaque, tartar, and stains from the teeth during teeth scaling or cleaning. A scaler helps clean even the places that are challenging to reach with brushing and flossing. Scaling helps avoid gum disease, tooth decay, and foul breath.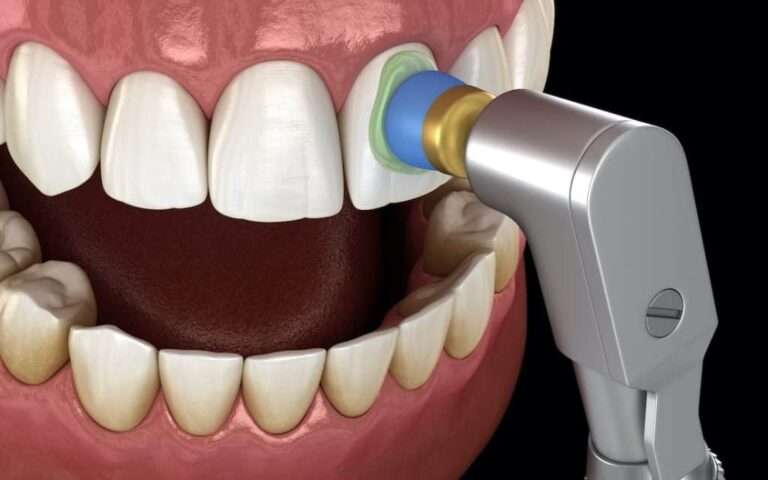 Polishing:
The dentist will use an abrasive paste and a polishing tool with a little brush after scaling the teeth. Polishing helps eliminate surface stains, leaving the teeth smooth and shiny and offering you a more attractive smile.
Flossing:
Afterwards, the dentist will floss your teeth to remove any leftover debris and to look for any areas that might require further care.
"Everyone should have their teeth professionally cleaned at least twice a year," advises dental surgeon Dr. Parth Shah. "More frequently, if they have certain risk factors like smoking, gum disease, or a history of cavities."
Teeth cleaning and polishing price
Several variables, including the dental office's location, the dentist's experience, and the type of dental insurance coverage, affect the price of teeth cleaning and polishing in Navi Mumbai.
The typical teeth scaling and polishing price in Navi Mumbai falls from INR 500 to INR 3000 per session. However, it is important to note that this is just an approximation and the actual cost may differ based on the abovementioned factors.
Signs and symptoms which need prompt attention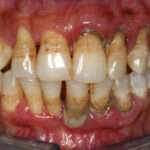 There are some indications and signs that could point to an urgent need for a dental cleaning, including:
Persistent bad breath despite brushing and flossing
Swollen or bleeding gums
Tooth discomfort when eating or drinking
Evident tartar accumulation on the teeth
Alterations in the teeth's appearance or color
If you or a loved one experiences any of these symptoms, please do not delay getting medical intervention from a highly-experienced dental expert like Dr. Parth Shah.
Benefits of cleaning & polishing teeth
Regular tooth cleaning and polishing can improve your dental health in several ways, including:
removes tartar and plaque
keeps gum disease at bay
reduces halitosis (bad breath)
aids in early dental issue detection
enhances the look of teeth
"Early dental care is important, so parents should teach their kids excellent brushing techniques and schedule regular checkups," recommends Dr. Parth Shah. "Age can raise the likelihood of dental issues, making it even more crucial to focus on your oral health as you age."
Teeth Polishing – Aftercare
Follow good oral hygiene, brush twice daily with a soft-bristled toothbrush, and be gentle when brushing your teeth to prevent any damage to the enamel.
For a few days before the procedure, refrain from consuming foods and drinks like coffee, tea, and red wine that might stain your teeth.
Avoid smoking or using tobacco products, as it can compromise the polishing result by staining your teeth.
Get regular dental cleaning to maintain the quality of the teeth polishing.
Dental specialist Dr. Parth Shah adds, "Frequent dental examinations help spot early indications of decay, infection, and other problems before they worsen and become more expensive to treat."
Precautions for Teeth Polishing
Polishing teeth is typically a routine, safe practice However; you should take some precautions to avoid any complications, such as:
Only a certified dental expert with the necessary education and certification, such as a dentist or dental hygienist, should conduct the scaling and polishing of teeth.
It is crucial to let the dentist know if you have sensitive teeth or gum disease before the procedure because polishing might hurt or worsen the situation.
Dental scaling and polishing should not be performed on teeth with cavities or decay because it may worsen the situation.
If you have breathing difficulties or hypertension, you should not get your teeth polished, as the polishing materials can cause allergic reactions.
Also, avoid teeth whitening methods if you are allergic to abrasive substances.
Before & After Images of Teeth Polishing & Cleaning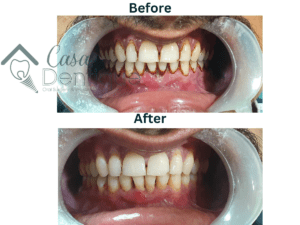 Experience the Difference of a Sparkling Smile - Schedule Your Dental Cleaning Today
Frequently Asked Questions
Although both dental cleaning procedures—scaling and polishing—are used to clean teeth, they have different objectives. Scaling is the process of utilizing specialized instruments to remove germs, tartar, and plaque off the surface of the teeth and below the gum line. On the other hand, polishing entails smoothing the surface of the teeth and removing any surface stains or discoloration using a rotating brush and specialized toothpaste.
Polishing is not mandatory after cleaning, but it can have additional advantages. Any surface stains or discolorations that may not have been eliminated after cleaning can be erased with the help of polishing. Moreover, it aids tooth surface smoothing, making it harder for germs to cling and produce plaque.
Depending on factors including your oral hygiene practices, food, and lifestyle, teeth polishing can last anywhere from a few weeks to many months. It is crucial to follow appropriate oral hygiene. This includes brushing twice daily, flossing, and regular use of an antimicrobial mouthwash. Also, it is advised to avoid foods and beverages that can cause stains and to schedule routine tooth cleanings with your dentist.
Teeth cleaning and polishing do not involve drilling or digging in or around the teeth, so it will not pain. However, you may experience a little discomfort or sensitivity that your dentist will take care of with a light surface anesthetic.