Pediatric Dentist in Navi Mumbai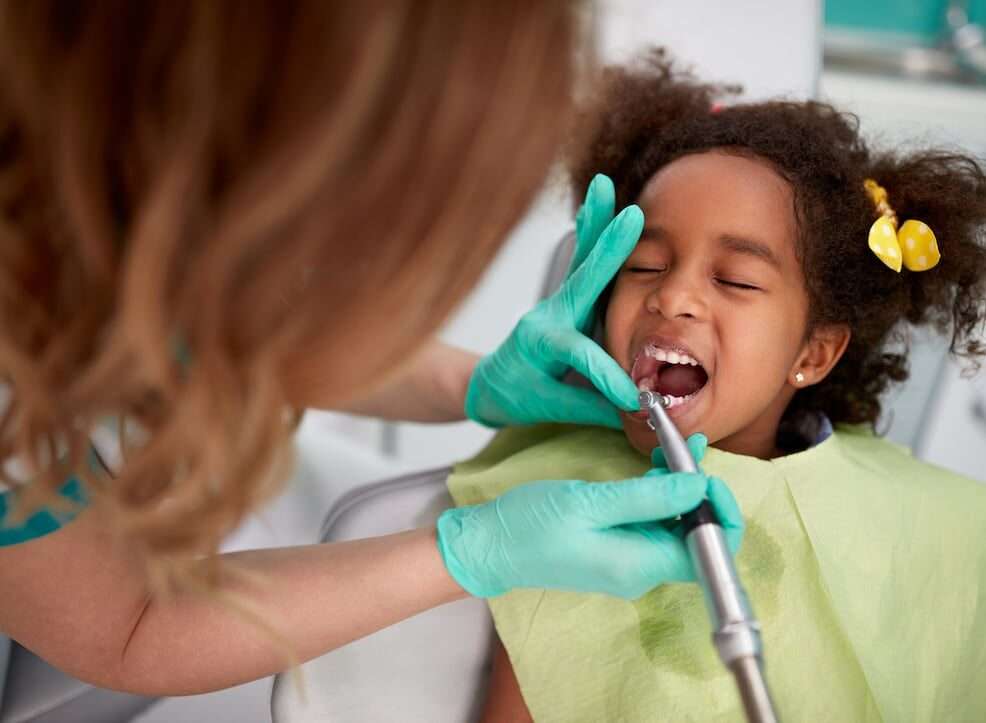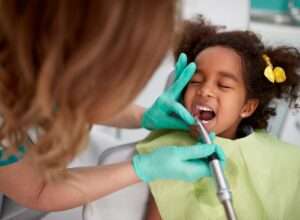 Pediatric dentistry is a specialized branch that focuses on the oral health of patients from 0 – 14 years old. Pediatric dentists are specially trained to diagnose and treat dental issues in children from birth through their teenage years.
Pediatric dentistry aims to ensure that children develop and maintain healthy teeth and gums. Pediatric dentists offer various services, including dental cleanings, fluoride treatments, dental sealants, cavity fillings, and orthodontic treatments. They also provide guidance on proper oral hygiene habits and nutrition to prevent tooth decay and other dental issues.
Prevention is a crucial aspect of pediatric dentistry. Pediatric dentists work closely with parents to promote good oral hygiene practices and encourage regular dental checkups. They also educate families about the significance of a healthy diet and proper nutrition to maintain optimal oral health.
"Pediatric dentists also offer specialized services to children who require individualized dental attention," says Dr. Parth Shah, one of the founders of Casa Dentique and a highly-respected pediatric dentist in Navi Mumbai.
"Specialized care includes children with developmental or cognitive disabilities, genetic disorders, or other medical conditions that impact their oral health."
"Book your child's dental appointment now and give them a healthy smile for life!"
About the Doctors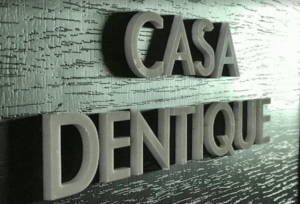 Dr. Parth Shah and Dr. Kopal Vij, a highly-skilled pediatric dental surgeon, founded the state-of-the-art Casa Dentique – Oral Surgery and Implant Centre in Navi Mumbai in 2018. They are both highly experienced Oral and Maxillofacial Surgeons. Their primary purpose was to provide their patients with a comprehensive range of dental services at an affordable price.
The clinic has a fully equipped OT and boasts a team of empathetic and knowledgeable pediatric dental specialists committed to providing the highest quality care to their patients. They deliver exceptional dental services by utilizing cutting-edge technology and extensive expertise. The services range from routine dental cleanings and fillings to complex procedures such as orthognathic (jaw) surgery, dental implants, TMJ disorders, full-mouth rehabilitation, pediatric dental surgery, and cosmetic dentistry.
Casa Dentique takes pride in its patient-focused approach, prioritizing individualized care and attention to detail. The team takes the time to understand each patient's concerns and collaborates with them to create a treatment plan that meets their specific needs and objectives. The clinic provides a comfortable and calming environment that helps patients relax during their appointments.
Overall, Casa Dentique is a reputable dental clinic in Navi Mumbai. The pediatric dental surgeons there are highly skilled. It is renowned for its advanced technology, proficient professionals, and patient-centric approach.
Dentistry for children – Treatments provided
Let us look at the various procedures that we provide in dentistry for children.
Fillings
Dental fillings serve as a way to restore the function and appearance of damaged or destroyed teeth by sealing the cavities with a substance.
Getting dental fillings as soon as possible is crucial to stop further decay and infection in the tooth. If you do not get timely treatment for the decay, it may eventually go to the tooth's nerve. You may experience excruciating pain, an infection, and tooth loss if that occurs.
Chairside crowns
CEREC (Chairside Economical Restoration of Esthetic Ceramic) is an innovative technology providing specialized dental crowns to address various dental problems effectively. A chairside crown helps restore the functionality and aesthetic appearance of a damaged or decayed tooth.
Chairside crowns are essential for children because they can swiftly and effectively guard and heal decaying or damaged teeth. These crowns can be finished in one visit as opposed to traditional crowns. Traditional crowns need many appointments and add to the time and hassle of scheduling additional appointments.
Root canal treatment for deciduous teeth
Baby teeth are essential for speech development, nourishment, and holding room for permanent teeth in a child. Baby teeth, or deciduous teeth, require root canal treatment to preserve good oral health and avoid additional decay or infection.
The surgeon extracts the tooth's damaged or infected pulp during the treatment. Then they clean the tooth and seal it to stop the spread of infection. This procedure restores the tooth's functionality and helps relieve the pain and discomfort brought on by tooth infection.
A root canal treatment in time is essential because infection or decay in baby teeth can progress to permanent teeth if left untreated, creating severe dental issues.
Scaling and polishing
Pediatric dentistry considers scaling and polishing vital procedures since they support children's dental health and oral hygiene.
Scaling, or deep cleaning, entails clearing the teeth and gum line of plaque and tartar accumulation. This treatment aids in stopping gum disease, which can result in swelling, bleeding, and, ultimately, tooth loss. It is especially crucial for kids because they may be more vulnerable to gum disease due to poor oral hygiene practices.
Polishing eliminates surface stains and smoothens the teeth giving them a clean, polished appearance. This technique not only enhances the aesthetic appearance of the teeth by producing a flat surface that is simpler to clean but also helps to prevent additional plaque development.
Teeth and jaw correction during the growing phase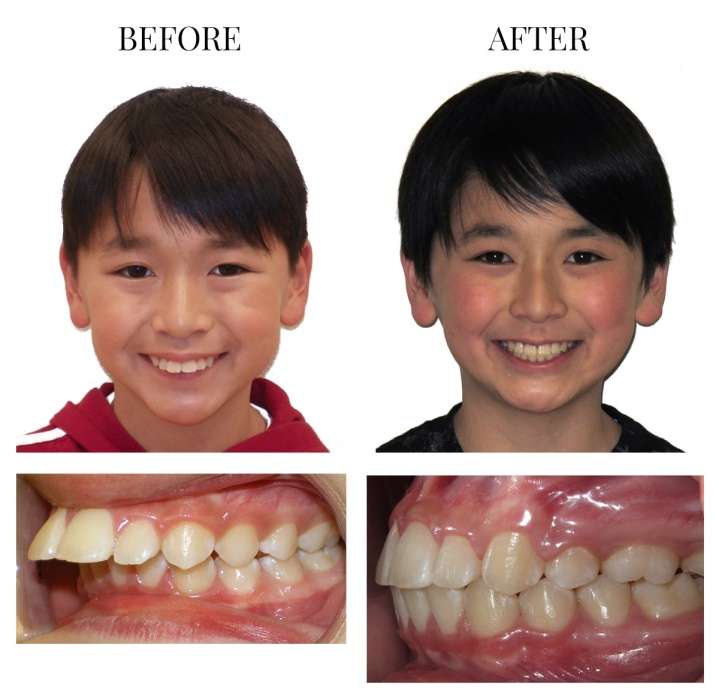 An essential component of pediatric dentistry is correcting the teeth and jaws while growing. Children's teeth and jawbone expand as they grow, making it easier to alter them to fix any misalignment or biting problems. Early intervention can enhance the general health and functionality of the mouth and help prevent the emergence of more severe issues in the future.
Dental experts use orthodontic tools such as braces or expanders to rectify abnormalities such as overcrowding, misplaced teeth, or a misaligned bite. A pediatric dentist or orthodontist can assess a child's dental growth and suggest the best action for their particular needs.
Habit-breaking
Pediatric dentists use the term "habit breaking" to describe the process of assisting kids in giving up bad oral habits like thumb-sucking, tongue thrusting, or prolonged pacifier use. These behaviors may cause misalignment or bite problems by interfering with the growth and development of the teeth and jaws.
Habit-breaking techniques involve using specialized oral gadgets, such as palatal cribs or thumb guards, to deter the youngster from participating in the damaging practice. These gadgets are cozy and non-intrusive while still doing an excellent job of breaking the habit.
Habit-breaking also involves educating the parents and children on strategies like distraction, positive reinforcement, or gradually breaking the habit over time.
Managing pain, fear, and anxiety caused by dental procedures
Pain management is made easy by local anesthetic as it numbs the area making the treatment painless. Additionally, there are methods like sedation dentistry that can make patients more at ease and relaxed throughout the operation.
Fear and anxiety management is particularly crucial for patients who might be scared or apprehensive about obtaining dental fillings. At Casa Dentique, pediatric dentist in navi mumbai, our dental experts alleviate fear and anxiety by providing a child-friendly environment. They explain the procedure in detail and address any queries or worries the patient may have. They may also offer options for sedation dentistry or other anxiety-reducing techniques to help children feel more comfortable and at ease.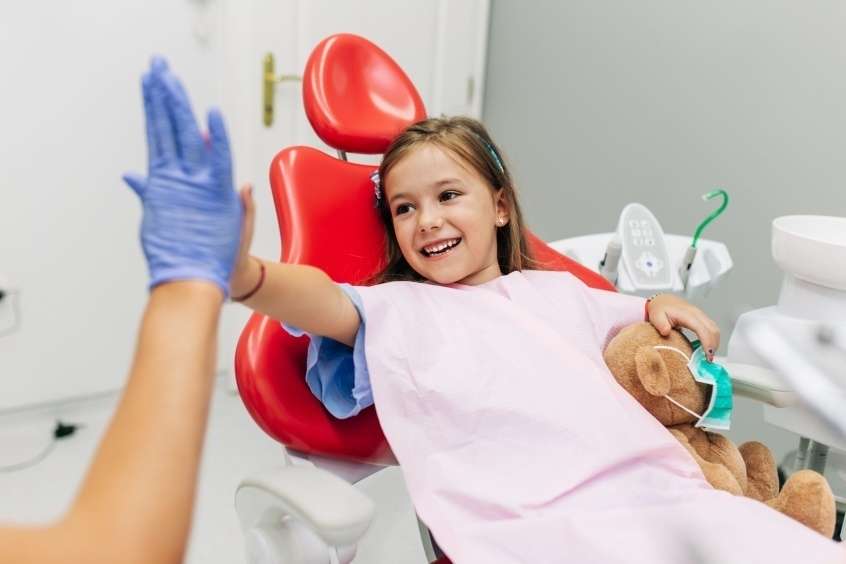 Case Study: Treating Caries in a Toddler
Patient: 2-year-old girl
Symptoms: Visible decay on multiple teeth
Medical & dental History: Healthy, no known allergies or medical conditions. No prior dental treatment
Examination findings: Visible decay on multiple primary teeth, with evidence of ECC (early childhood caries). The child showed poor oral hygiene habits and regularly consumed sugary snacks and drinks.
Treatment: General anesthesia was advised for treatment due to the depth of the deterioration. The treatment plan entailed a stainless steel crown on the primary molars, composite resin fillings on the front teeth, and fluoride varnish application. Also, the pediatric dental specialists educated the parents about good oral hygiene practices, wholesome eating habits, and the significance of routine dental exams.
Treatment Results: The patient's decaying teeth were effectively restored after receiving the suggested therapy under general anesthesia. No additional deterioration was visible at checkups, and the patient's general dental health dramatically improved. The patient's nutrition and oral hygiene practices were also addressed, and routine dental exams were planned every 6 months.
"Pediatric dentistry plays a crucial role in maintaining a child's overall health and well-being," explains Dr. Parth Shah, a top-notch dentist in navi mumbai. "Children can enjoy healthy teeth and gums for a lifetime by establishing good oral health habits early on."
Frequently Asked Questions
You should take your children to the dentist for the first time by their first birthday or within 6 months of the emergence of their first tooth, whichever comes first.
Yes, a 2-year-old can get cavities, especially if they regularly consume sweetened foods and beverages or if their dental care falls short due to irregular or improper brushing. It is crucial to instill proper dental hygiene practices in your child at a young age and to take them to frequent dental checkups. These simple steps can stop cavities from forming.
Youngsters should use fluoride toothpaste to help prevent tooth decay. However, the amount of toothpaste used should be pea-sized or less, and they should be trained to spit out the toothpaste rather than consume it.
Untreated cavities in children can result in more decay and infections, ultimately resulting in discomfort and even tooth loss. It is essential to treat cavities as soon as possible To prevent complications.
Cavities can be treated, but it depends on how severe they are. Treatment can range from a simple filling to more extensive procedures like a crown or root canal. After treatment, good oral hygiene and regular checkups are still necessary to prevent further decay.
Children with special needs or those unable to bear dental treatment due to fear or anxiety may require sedation or anesthesia. When applied by a trained expert in a controlled setting, sedation and general anesthetic are typically considered safe for children.
Children can avoid cavities by practicing proper oral hygiene habits, eating a healthy diet, and visiting the dentist regularly. Children should floss daily, wash their teeth twice daily, eat a balanced diet, and avoid sugary drinks and snacks.