If you suspect you have osteomyelitis of the jaw after tooth extraction treatment, seek professional dental care. At Casa Dentique, a state-of-the-art dental clinic in Seawoods, Navi Mumbai, Dr. Parth Shah offers effective solutions for patients facing this troublesome condition. He is a competent oral and maxillofacial surgeon in Seawoods, Navi Mumbai.
Dental health is of paramount importance, and tooth extraction is a common procedure that helps resolve various dental issues. However, problems such as osteomyelitis of the jaw might occur after tooth extraction in some circumstances.
Osteomyelitis of the jaw is a rare yet severe condition. It is characterized by jawbone inflammation and infection. It can transform what should be a straightforward dental treatment into a prolonged and often painful journey.
Are you or a loved one suffering from persistent jaw pain, swelling, or any of the symptoms associated with osteomyelitis of the jaw after tooth extraction? Please don't ignore them. Delayed treatment can lead to complications and increased discomfort.
Seeking support from experienced dental professionals like Dr. Parth Shah, one of the best dentists in Seawoods, Navi Mumbai, is key to your recovery and the restoration of your oral health. His expertise in oral and maxillofacial surgery ensures you receive the specialized care to diagnose and treat this condition effectively, offering you the path to a quicker and more comfortable recovery.
In this blog, we aim to shed light on osteomyelitis of the jaw after tooth extraction treatment, addressing its symptoms, treatment options, and preventive measures.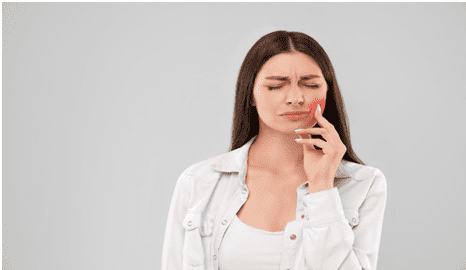 Understanding Osteomyelitis of the Jaw
Osteomyelitis is a rare condition characterized by inflammation and infection within the bone. When it affects the jawbone, it is referred to as osteomyelitis of the jaw. While tooth extraction is generally a safe and common dental procedure, it can occasionally pave the way for this painful complication. Here is what you need to know:
The Connection Between Tooth Extraction and Jaw Osteomyelitis
Tooth extraction is usually performed to relieve pain and discomfort caused by dental issues. Unfortunately, when infections linger, or complications arise post-extraction, osteomyelitis of the jaw can develop. The question is, How does this connection occur?
The primary link lies in the fact that tooth extraction creates a pathway for bacteria to enter the bloodstream. Usually, our bodies can fend off these bacteria. Still, under certain circumstances, such as a compromised immune system, the bacteria can gain a foothold and trigger an infection in the jawbone.
Importance of Early Detection and Intervention
One of the most critical aspects of managing osteomyelitis of the jaw is early detection and prompt intervention. "Delayed treatment can lead to more severe complications, prolonged recovery, and potentially permanent damage to the jawbone," cautions Dr Parth Shah, one of the best dentists in Navi Mumbai. This highlights the importance of being vigilant about symptoms and seeking dental care without delay.
Recognizing the Symptoms
The key to early intervention lies in recognizing the symptoms of osteomyelitis of the jaw. If you have recently undergone a tooth extraction and are experiencing any of the following symptoms, seek immediate medical attention:
Persistent Jaw Pain: Pain that doesn't subside or worsens after tooth extraction.
Swelling and Redness: Noticeable swelling and redness in the jaw area.
Fever and Chills: Elevated body temperature and chills may indicate an underlying infection.
Difficulty Opening the Mouth: Limited jaw mobility due to pain and swelling.
Pus Drainage: Pus or discharge from the extraction site is a concerning sign.
Unpleasant Taste: An unusual or unpleasant taste in the mouth.
General Discomfort: Overall discomfort, fatigue, and malaise.
If you experience any of these symptoms, consult your dentist for a thorough evaluation. Timely diagnosis can prevent the condition from worsening.
Diagnosing Osteomyelitis After Tooth Extraction
Diagnosing osteomyelitis of the jaw typically involves a combination of clinical evaluation, imaging tests, and laboratory investigations. Here is what you can expect:
Your dentist will conduct a thorough clinical examination. They will discuss your symptoms, examine the extraction site, and inquire about your medical history. This evaluation helps in establishing a baseline understanding of your condition.
Imaging plays a crucial role in diagnosing osteomyelitis. The following imaging techniques may be used:
1. X-rays: X-rays are a valuable tool for detecting changes in bone density and structure. They can reveal areas of bone destruction and help identify the extent of the infection.
2. CT scans: They provide more detailed images than X-rays and can offer a comprehensive view of the affected area.
3. MRI scans: It is particularly useful for evaluating soft tissue. It can help diagnose the extent of the infection and any associated abscesses.
Laboratory Investigations
The dentist may recommend blood tests to check for infection markers, such as an elevated WBC count and increased C-reactive protein (CRP) levels. These markers can confirm the presence of an active infection.
Once a diagnosis is established, the dentist can initiate an osteomyelitis tooth extraction treatment plan.
Explore our Smile Design Treatment options at Casa Dentique in Navi Mumbai, and let us help you regain your confidence and smile.
Treatment Options for Osteomyelitis of the Jaw
The treatment of osteomyelitis of the jaw after tooth extraction may involve:
The cornerstone of osteomyelitis treatment is antibiotic therapy. It aims to eradicate the infection and prevent its spread. The choice of antibiotics is guided by the specific bacteria causing the infection and their sensitivity to different drugs.
In cases where antibiotics alone are insufficient, surgical debridement may be necessary. This procedure involves the removal of infected tissue and bone. It is crucial to eliminate the source of infection to facilitate healing.
It involves breathing pure oxygen in a pressurized chamber. This treatment can enhance the body's ability to fight infections and promote tissue healing.
Pain Management and Supportive Care:
Managing pain and providing supportive care are essential components of treatment. OTC or prescription pain medications may be recommended to alleviate discomfort. Maintaining proper hydration and nutrition is also crucial for recovery.
Discover our Dental Implant services in Navi Mumbai at Casa Dentique. We specialize in providing safe and effective dental implant solutions, even for patients recovering from complications like osteomyelitis.
Recovery and Aftercare
Recovery from osteomyelitis of the jaw can be a gradual process. Patients are advised to follow specific aftercare guidelines:
1. Antibiotic Adherence: Take your prescribed antibiotics exactly as directed. Completing the full course is crucial to eliminating the infection.
2. Maintaining Oral Hygiene: Follow your dentist's instructions for gentle brushing and rinsing to keep the surgical site clean. It can help reduce the risk of reinfection.
3. Regular Follow-Up: Attend scheduled follow-up appointments with your dentist. These visits allow for progress monitoring, treatment adjustments, and promptly addressing any concerns.
4. Balanced Diet: Opt for a well-balanced diet rich in nutrients to support healing and strengthen your immune system.
5. Avoiding Tobacco and Alcohol: Refrain from tobacco and excessive alcohol consumption during recovery. They can hinder healing and increase the risk of complications.
Preventive Measures for Future Dental Health
Preventing jaw osteomyelitis after tooth extraction and safeguarding dental health requires a proactive approach. Here are some preventive measures to consider:
Routine dental check-ups are essential for identifying and addressing dental issues early before they escalate into more significant problems.
Timely and Appropriate Tooth Extraction
Ensure that tooth extractions are carried out by experienced dental professionals who follow best practices to minimize the risk of complications.
Following Post-Operative Care Instructions
After tooth extraction, carefully follow your dentist's post-operative care instructions. This includes taking prescribed medications, maintaining oral hygiene, and attending follow-up appointments.
Consistent and effective oral hygiene practices, including regular brushing, flossing, and rinsing, can help prevent dental infections.
Avoiding tobacco products and moderating alcohol consumption can significantly improve dental health and overall well-being.
Conclusion
Osteomyelitis of the jaw after tooth extraction is a rare condition. But it requires prompt diagnosis and treatment. Awareness of the symptoms and adherence to preventive measures can help patients avoid this complication.
If you experience persistent jaw pain or other concerning symptoms after tooth extraction, consult Dr. Parth Shah, a highly skilled dentist at Casa Dentique, one of the best dental clinics in Navi Mumbai, for a thorough evaluation and timely intervention.
Don't wait for complications to arise; take charge of your dental health today! Schedule a dental check-up, and if you have recently had a tooth extraction, follow your post-operative care instructions diligently. Your smile will thank you.
FAQs:
Q1: Is osteomyelitis of the jaw after tooth extraction common?
A1: No, osteomyelitis of the jaw after a tooth extraction is rare. Most tooth extractions proceed without complications. However, it is essential to be aware of the possibility and seek prompt treatment if symptoms arise.
Q2: Can osteomyelitis of the jaw recur after treatment?
A2: Recurrence is uncommon but possible. Proper treatment, follow-up care, and preventive measures can reduce the risk of recurrence.
Q3: Are there any specific risk factors for developing osteomyelitis of the jaw after tooth extraction?
A3: Factors such as compromised immune systems, chronic medical conditions, smoking, and poor post-operative care can increase the risk of developing osteomyelitis after tooth extraction.
Q4: How long does it take to recover from jaw osteomyelitis?
A4: Recovery time varies but can be gradual. Patients should follow their dentist's recommendations for antibiotics, oral hygiene, and follow-up appointments for the best outcome.
Q5: Are there any long-term effects of jaw osteomyelitis?
A5: Most patients can recover without significant long-term effects if diagnosed and treated promptly. However, in severe cases, it can lead to jawbone damage or the need for additional surgical procedures.